Counselling and Conflict Resolution at the University of Bayreuth
Social conflicts are an everyday phenomenon in the working world. The way they are dealt with affects job satisfaction, the work environment, the health and motivation of staff as well as work results. The University of Bayreuth is committed to dealing with conflicts in a responsible way, ensuring mutual respect among all those involved.
Employees of the University of Bayreuth can turn to our external counsellors to resolve conflicts in the workplace as well as in cases of discrimination and harassment. Two counsellors also offer special support in cases of racism.
This service is free of charge. Consultations are bound to professional discretion. The objective is to collect complaints, to advise the parties concerned, and to facilitate conflict resolution.
Please note: A joint conversation of two or more conflict parties with the counsellor of your choice is usually out of the question if individual counselling by the same person has taken place beforehand. If you are unsure about the right course of action, Ms Herrmann from the Staff Council (tel. 2163) and Dr Dinglreiter from the Human Resources Department (tel. 5875) are available to advise you. You can also contact either person to find out which conflict advisor might be suitable for your case.
Basic Information
Conflict Resolution
Discrimination and Harrassment
Counselling and Mediation
The following persons are at your disposal: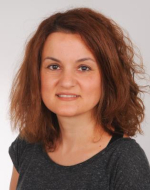 Rosalia Petropoulou
M. Sc. Psychology
Services: Counselling, mediation, experiences of discrimination (racism, sexism etc.)
Languages: German, English, Greek
Kaipershof 12
96047 Bamberg
Phone: 0176 / 23734968
E-Mail: petropoulourosalia@gmail.com
Consultations are held via video conference or in Bamberg.
Christiana Udeogu-Gözalan
Medical doctor, specialist in psychiatry and psychotherapy, psychoanalysis
Services: Counselling, experiences of discrimination and racism
Languages: German, English
Ismaninger Str. 76
81675 München-Bogenhausen
Phone: 0160 / 99124925
E-Mail: christiana@udeogu.com
Consultations are held via video conference or on Campus.